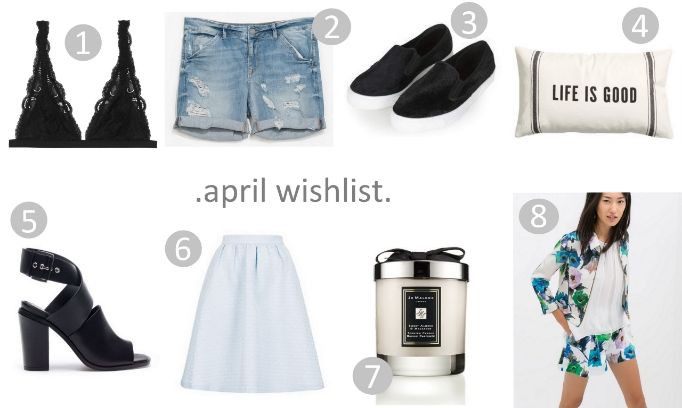 1. Llevaba tiempo busvando un sujetador así, y al fin lo he encontrado. Este es de Monki, y lo podéis encontrar tanto en la página oficial de la marca como en Asos.com
1. I have been looking for a lace bra from a long time ago, and finally I found the perfect one. This is from Monki, and you can find it on their website or in Asos.com
2. Unos shorts vaqueros de tipo boyfriend, perfectos para el verano.
2. A pair of boyfriend denim shorts, perfect for summer.
3. Una de las tendencias de esta primavera, las slipons. Yo me quedo con estas de Topshop.
3. One of the last trends, the slipons. I like these from Topshop.
4. H&M muy pronto va a abrir tienda online, y yo me muero de ganas por hacerme con algunas cosas de la línea H&M Home.
4. H&M will open the online store in Spain very soon, I really want to buy some things from H&M Home.
5. Me encantan estas sandalias de Bershka, parecen muy cómodas al no tener mucho tacón y ademas ser gordito.
5. I like these sandals from Bershka, they look very comfortable.
6. Ayer mientras daba una vuelta por el mall, vi esta preciosa falda en Topshop y me enamore de ella. La pena es que de momento no tengo ningun evento para poner de escusa y poder comprarla...
6. Yesterday while I was in the mall I saw this beautiful skirt in Topshop and I completely fell in love. What a pity that I don't have any event to wear it...
7. Jo malone. He decubierto esta marca hace poquito, y me muero de ganas por hacerme con una vela, seguro que huelen genial!
7. Jo Malone. I have discovered this brand short time ago, and I really want to try the candles they have, I'm sure that they smell very nice!
8. Este conjunto de Zara me tiene completamente enamorada!
8. I am totally in love with this ensemble from Zara!