Buenos días!! Primera semana del mes, asi que hoy quiero dejaros con mi wishlist de marzo. Espero que os guste!
Good morning! Today I want to share with you my wishlist for this month. I hope you like it!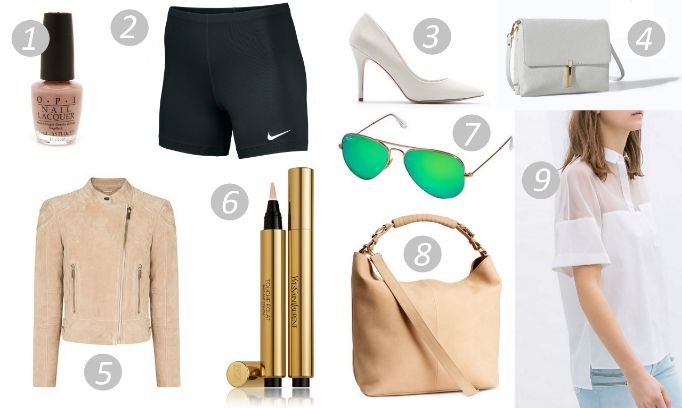 1. Un pintauñas en tono muy suave. ¿Qué os parece este de OPI?
1. I want a soft color nail polish. How about this from OPI?
2. Estos shorts de Nike me van a venir genial para seguir haciendo deporte cuando las temperaturas empiecen a subir.
2. These Nike shorts will be perfect to continue with my work out in summer.
3. Unos salones en color blanco para mis looks primaverales. Estos son de Mango Outlet con lo que nos ahorramos algo de dinero.
3. A pair of white pump for my spring outfits. These are from Mango Outlet.
4. Y como no un bolsito blanco a juego con los zapatos. Este de Zara me parece precioso.
4. And of course a white small bag. This is from Zara.
5. Una biker de ante beige es un básico en cualquier armario, y además es perfecta para la primavera. Esta es de Mango.
5. A beige suede biker is a basic in every wardrobe. I really love this from Mango.
6. He oido maravillas de este corrector-iluminador, así que creo que habrá que probarlo ¿no?
6. I want to try this concealer from Ives Saint Laurent.
7. Las gafas con cristales espejo siguen siendo tendencia esta primavera-verano. Yo me quedo con estas Ray Ban Aviator.
7. I'm in love with this Ray Ban Aviator mirrored sunglasses.
8. Este bolso de H&M es simplemente perfecto
8. This H&M bag is simply perfect.
9. Esta camisa blanca de Zara en version manga corta es imprescindible para el verano.
9. I think that this Zara shirt is perfect for the summer.